국제처, 2023학년도 2학기 초청 교환·방문학생 오리엔테이션 성료
Fall 2023 Exchange and Visiting Student Orientation Hosted by the Office of International Affairs is a Success
국제처가 새 학기부터 우리 대학에서 생활하게 된 초청 교환·방문 학생들을 위해 오리엔테이션 행사를 개최했다.
The Office of International Affairs recently organized an orientation event for exchange and visiting students who will be studying at our university starting this Fall semester.
'2023학년도 가을학기 초청 교환·방문 학생 오리엔테이션(Fall 2023 CAU International Student Orientation)'이 8월 31일 301관(중앙문화예술관) 중앙아트홀에서 진행됐다.
The Fall 2023 CAU International Student Orientation was held at the Central Arts Hall in Building 301 (Art Center) of our Seoul campus on August 31st, 2023.
이날 행사는 교환·방문 학생들에게 본격적인 새 학기가 시작됐음을 알리는 자리였다. 이번 학기 우리 대학에 초청된 외국인 교환·방문학생은 총 470여 명이며, 이들의 소속 국가는 53개국이다.
The orientation signified the beginning of the new semester for exchange and visiting students. There are over 470 foreign exchange and visiting students studying at our university this semester. In total, the international student body represents 53 countries from across the globe.
우수한 국제처장은 환영사를 통해 "타국에 온 만큼 수업을 넘어 다양한 경험을 하길 바란다. 의사소통에 어려움이 많겠지만 국제처와 국제학생대사 글램에게 이야기하면 언제든지 도움을 줄 것"이란 말로 학생들을 반겼다.
The Vice Provost of the Office of International Affairs, Dr. Su-Han Woo, welcomed students with a speech, stating, "We hope you will have diverse experiences beyond your academic studies while you're here. We understand that communication may be challenging, but both the International Office and the GLAM (Global Ambassadors) are here to assist you whenever you need it."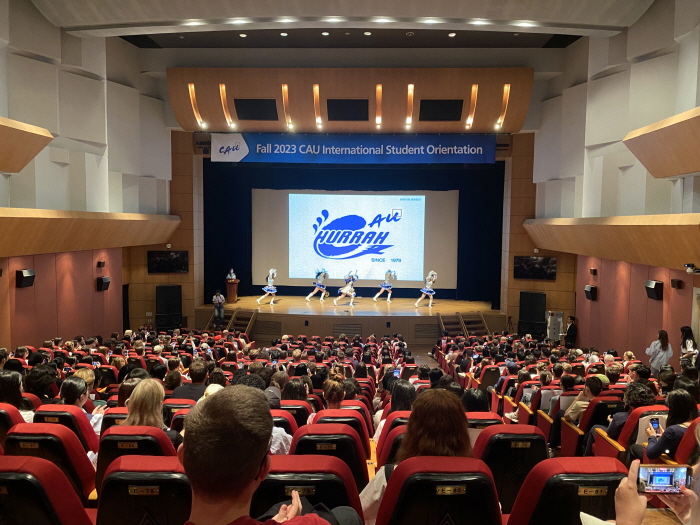 이번 오리엔테이션에서는 예년과 달리 우리 대학 동아리들의 환영 공연도 진행됐다. 응원단 후라씨(HURRAH–C)가 치어리딩으로 막을 올린 데 더해 다시사이드(Da C Side), 댄스포즈(Dance P.O.zz), 블루드래곤(Blue Dragon)의 공연이 이어졌다.
Unlike previous orientations, this year's event also featured performances by clubs at the university. Our cheering squad, HURRAH-C, kicked off the festivities with a cheerleading performance, followed by performances from Da C Side, Dance P.O.zz, and Blue Dragon.
미국에서 온 전자전기공학부 4학년 Aarron Post 학생은 "학생들이 준비한 공연을 통해 외국인 교환학생들을 환대해 줘 감사하다"고 소감을 전했다.
Aarron Post, a fourth-year electrical engineering student from the United States, expressed his gratitude, saying, "I appreciate the warm welcome extended to foreign exchange students through the performances prepared by students."
이날 오리엔테이션에는 동작경찰서도 참여했다. 외국인 학생들의 안전한 생활을 위해 진행된 동작경찰서 정보안보외사과 관계자가 '범죄 예방교육'을 진행했다. 특히 최근 외국인을 상대로 보이스피싱 사기와 고액 아르바이트로 인한 피해, 마약범죄가 발생하고 있다며, 각별히 유의할 것을 당부했다.
The Seoul Dongjak Police also participated in the orientation to ensure the safety of international students. Representatives from the Information Security External Affairs Division of the Seoul Dongjak Police Station conducted a crime prevention education session, emphasizing the need to be especially vigilant due to recent cases of voice phishing scams, high-paying part-time job scams, and drug-related crimes targeting foreigners.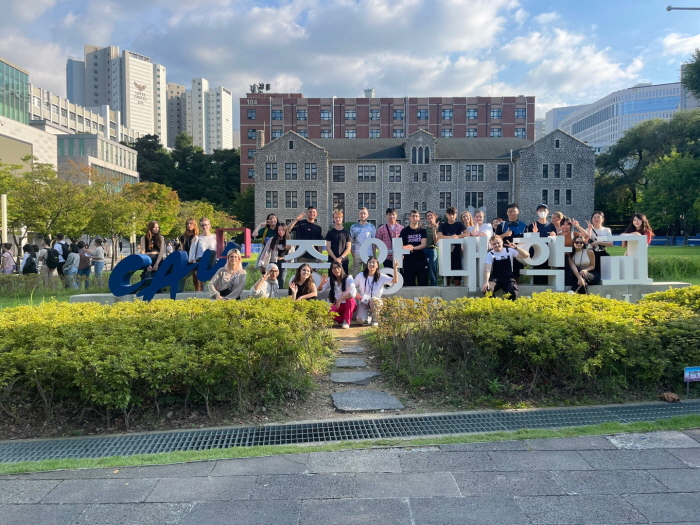 이어진 2부 행사를 통해서는 학사일정과 외국인등록증 발급 등 교환학생이 숙지할 사항에 대한 안내가 진행됐다. 국제학생대사 글램(GLAM)의 한국 생활 소개와 캠퍼스 투어로 이날 행사는 모두 마무리됐다.
Afterwards, guidance on academic scheduling and foreigner registration card applications for exchange students was provided. The orientation concluded with a presentation on daily life in Korea and a campus tour led by the Global Ambassadors (GLAM).
강병익 글램 회장은 "앞으로 글램은 학생들을 위한 많은 행사를 기획할 것"이라며 "학내 구성원 모두가 글램의 행보를 많이 응원해달라"고 했다.
Kang Byung-ik, the GLAM president, stated, "In the future, GLAM will plan many events for students and our goal is to support all members of the university community."
/취재 GLAM 12기 유동민(정치국제학과 2학년)
/Reported by GLAM 12th Yoo Dong-min (Political Science and International Relations, 2nd year)