'찾아오는 출입국 서비스' 실시
'Visiting Immigration Service Event' was held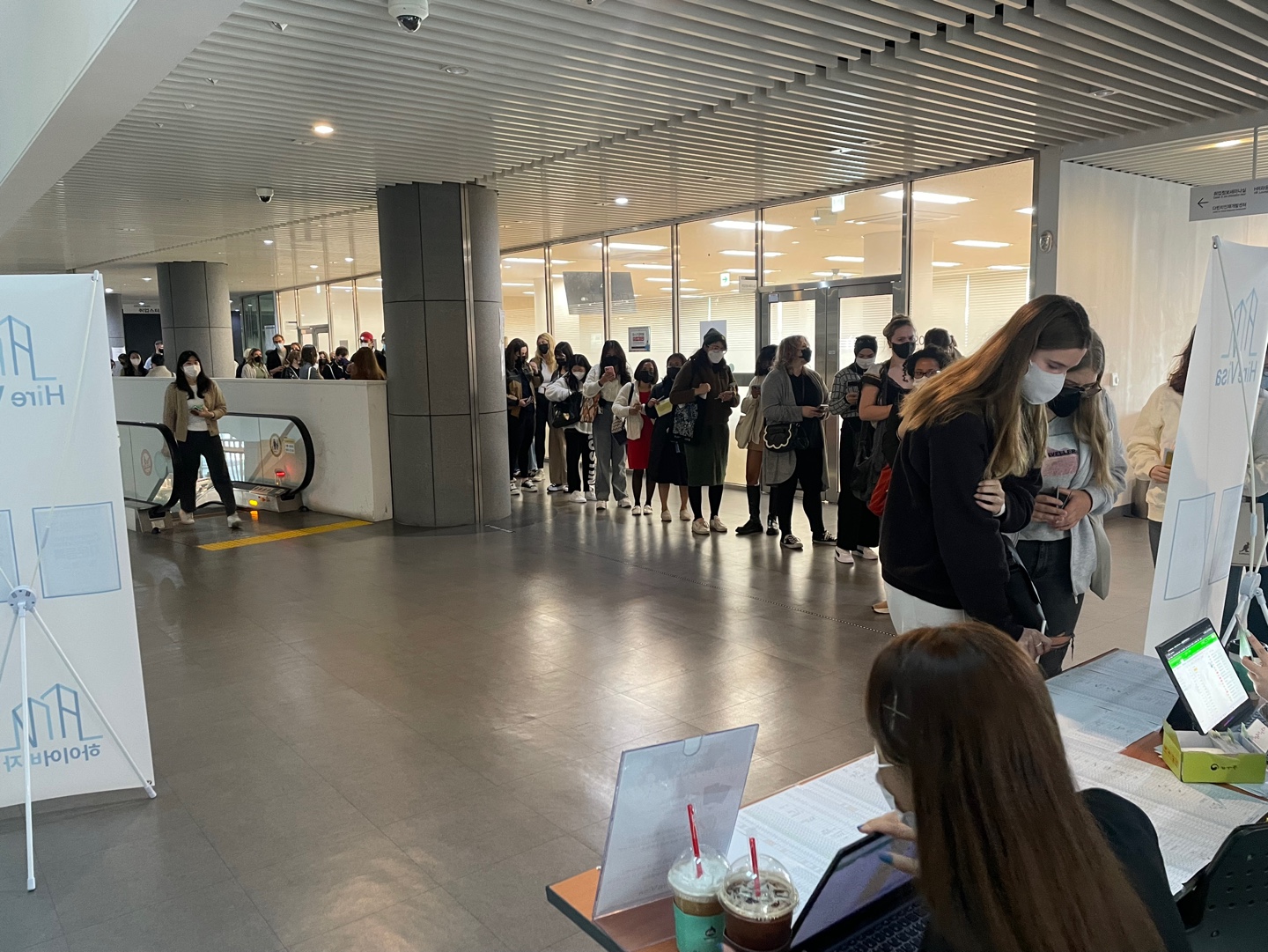 우리 대학에 재학 중인 외국인 학생들의 편의를 위해 국제처 국제교류팀이 마련한 '찾아오는 출입국 서비스'가 10월 27일 310관(100주년 기념관) 2층 로비에서 진행됐다.
For the convenience of all international and exchange students attending our university, the "Visiting Immigration Service Event", organized by the Office of International Affairs (OIA), will be held on the second floor of the 310 building on October 27.
찾아오는 출입국 서비스는 우리 대학 외국인 유학생들이 적시에 외국인 등록을 할 수 있도록 교내에서 외국인 등록 신청을 완료토록 지원하는 서비스다. 코로나19 팬데믹이 종결 수순을 밟음에 따라 출입국외국인청에 방문해 외국인 등록신청을 하려는 민원이 집중되는 상황을 고려했다.
국제처 국제교류팀은 이날 서울출입국외국인청에 협조를 구해 찾아오는 출입국 서비스가 진행될 수 있도록 했다. 서울출입국외국인청에서 우리 대학으로 파견된 직원 3명이 외국인 등록을 위한 지문 등록 등을 진행한 결과 480여 명의 외국인 유학생이 외국인 등록신청을 완료했다.
This service will provide foreign students support from the university to complete applications for foreign registration on campus. This will allow students to register themselves as foreigners in a more timely and efficient manner.
Due to the COVID-19 Pandemic restrictions lifting, it has become increasingly difficult for the Immigration Office to handle the influx of foreigners coming to the country. For that reason, the Seoul Immigration Office dispatched employees to Chung-Ang University to complete the application for foreign registration. This allowed for a faster and easier process for the exchange and international students entering Chung Ang University to apply for their alien registration card.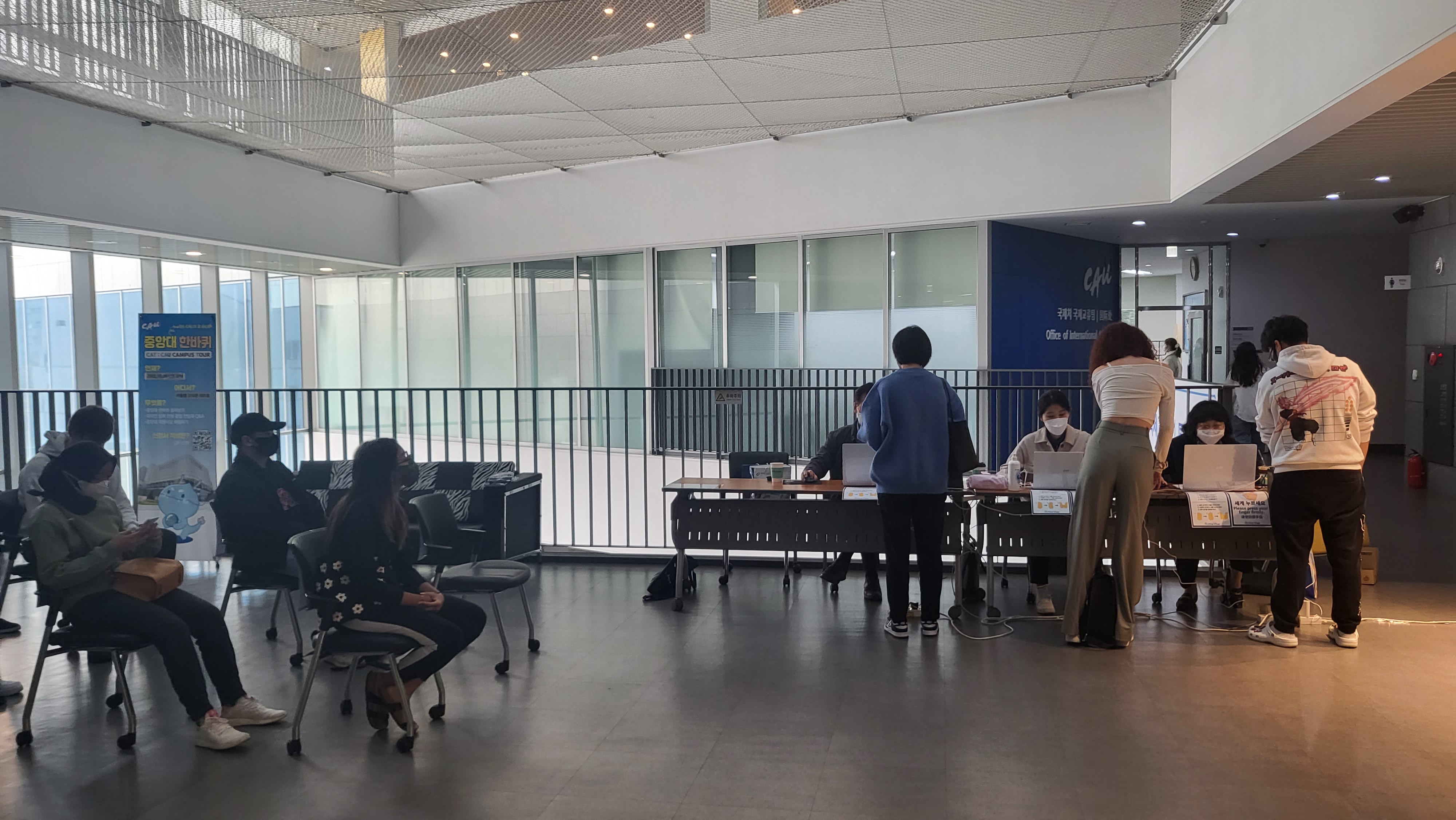 현 출입국관리법에 따라 우리나라에 신규 입국하는 외국인은 90일 이내에 외국인 등록을 마쳐야 한다. 외국인 등록을 완료해야만 은행계좌 개설, 통신서비스 가입 등에 꼭 필요한 외국인 등록증이 발급되기에 신속한 외국인 등록 절차 진행이 무엇보다 중요하다.
Under the current immigration law, foreigners entering Korea must complete their foreign registration within 90 days. Our university values a rapid foreign registration process because foreign/alien registration cards are essential for opening bank accounts and subscribing to telecommunications services.
앞으로도 국제처 국제교류팀은 해당 서비스를 제공할 예정이다. 국제교류팀 관계자는 "외국인 유학생들이 보다 빠르고 편리하게 출입국 관련 민원을 해결할 수 있도록 지원할 계획"이라고 전했다.
The CAU OIA will continue to provide its upmost service for the international and exchange students. An official from the International Exchange Team stated, "We plan to help foreign students solve immigration-related complaints more quickly and conveniently."